Here at Thomas Creek Concepts our goal is to profitably manage our clients Pay Per Click advertising campaigns, and help them grow their businesses over time. Although we are AdWords specialists, the return from Bing Ads advertising continues to improve. No longer is Bing advertising a luxury for those larger companies with international multi-media marketing campaigns. So how do you start advertising with Bing? First of all, you have to create a Bing Ads account.
The purpose of this article is to show how to create a Bing Ads account, for existing clients looking to expand their online advertising. Rather than add the additional steps of creating your own campaigns, adgroups, entering in your keyword, targeting, ad copy, etc., etc., etc. – If we are managing the account, we'll take care of all that for you! All we need you to do is to create the account, and enter your billing information. Follow these easy illustrated steps and we'll have you advertising on Bing networks in no time. 🙂
1. Create a Microsoft account:
You can create your Microsoft account here. Your Microsoft account is your one sign in for all your Microsoft products including, MSN, Xbox Live, and any Bing or Bing ads accounts. If you do not have a Microsoft account yet, but you do have a main business email (such as Gmail for your Google accounts), you can use that email for your Microsoft account. You do NOT have to use a Microsoft email provider.
2. Sign up for Bing ads, and create a Bing Ads account:
Once you have created your Microsoft account, now you can sign up for Bing Ads. Just click the sign up button:
Then, click sign in with an existing Microsoft account: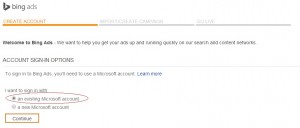 3. Enter your account information: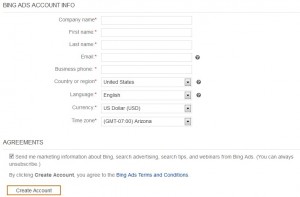 4. STOP! Do NOT create your first campaign – Just Enter your billing information:
Note: When choosing your billing options, make sure you select post-pay. If you select the pre-pay option, you will not be able to link your account to a managers API, and you can NOT change your payment options after you setup the account.

We will take care of all the initial campaign setup. Typically, we do NOT import AdWords accounts into Bing Ads for existing AdWords clients. If you do have historical Analytics data, the organic Bing information which already exists is the "best" starting point. What "works" for the Google audience may not work for the Bing audience. If we know something "works" for Bing already, first and foremost we want to try and build upon that with the initial Bing Ads strategy. So, all you have to do to get your first campaign up and running is:
5. Find your account number and send that to us:

You should NEVER give your account number to anybody! That being said, that is exactly what we are asking you to do. 🙂 Once we have that account number, we can send you an invitation to join our Bing Ads agency level account.
6. Accept our invitation to link your account:
You should receive an email from Bing letting you know that we have sent the invitation. Once you get that email, you can accept the invitation in your Bing Ads account, here: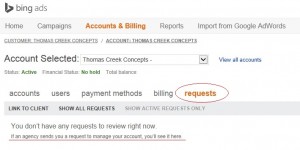 Once the invitation is accepted, that;s it! You have now learned how to create a Bing Ads account, and now we can get to work! 🙂
Since you created your account, it belongs to you. You own it, we can't take it away from you. However, you can always remove our access at any time. It is important to us to know that you are in ultimately in control. You can run your own reports, access your own account, you and only you will know your credit card and billing information. We do NOT handle the budget for you, you pay your own bill – And as a result, we cannot hide any charges, costs, or data from you. (Unlike some other agencies. 🙁 )
All this PPC advertising stuff can seem complicated, but that's what we're here for. The initial setup of your first campaign is not nearly as important as the long term optimization of your account. Hopefully, this piece will help you create your Bing Ads account with as little pain or suffering as possible. 🙂
The small amount of effort it requires to create a Bing Ads account is small in comparison to the long term benefits that Bing Ads advertising can offer in addition to AdWords as part of a comprehensive, sustainable, and above all profitable, online marketing strategy. So what are you waiting for? Create a Bing Ads account, and let's get to work!